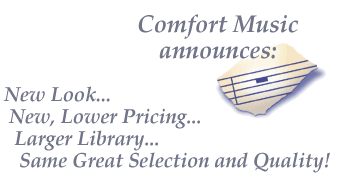 Welcome! We want to provide you with the best music and service possible. We have dramatically lowered our prices!

Our library continues to grow! We have added the "Supplemental Catalog" which has doubled the size of our music library!

CONVENIENT, QUICK AND AFFORDABLE!
Enjoy your visit! Please call (800.266-6876) or email fred@comfortmusic.com if you have any thoughts or questions. We'd love to hear from you.